Later Gator Nationals
Big Daddy Roth and I meet 35 years later
---

KKOA-April 1996 Sarasota,Florida
This is usually a pretty neat show, but for some reason this location at the fairgrounds in Sarasota, FL has experienced some tough times lately with conflicts of dates and other things that have eroded attendance at some of the shows put on here.

What drew me to this show was the appearance of Ed "Big Daddy" Roth.
I had expected to see the Beatnic Bandit II but for some reason, they didn't bring it.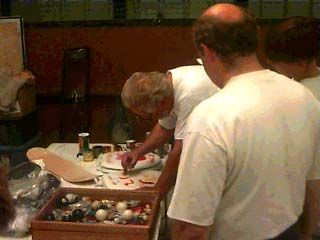 I had put on a car show in the early sixties in St. Petersburg, FL that had featured the original Beatnik Bandit I and I had an autograpghed picture by Ed Roth and I thought it would be cool to have it re-autographed 35 years later.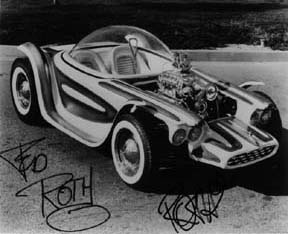 Well, I got my autograph. On the left is the signature from 1961 and on the right is the 1996 signature.Two color photos are of Ed painting toilet seats for the crowd.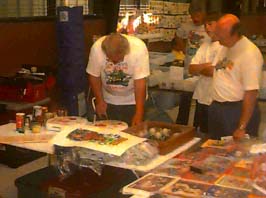 When I had hired the original Bandit in 1961, it had the most professional display and presentation that I had ever seen, with Hi-Fi music and a professionally narrated presentation. The car was remotely controlled and even started up to please the crowd. It ran on alcohol so the fumes wouldn't be so bad. I believe that Roth was a genius at promotion and here he was painting toilet seats.

Here are some photos of cars at the LaterGator Nationals

1933 Ford coupe with wild flames

1936 Ford Cabriolet, yellow with chopped Carson top

Wild 1957 Buick with a chopped top

Rear shot of Buick

Interior of 1957 Buick

1930 Ford Phaeton with pink flames

1950 Mercury with blue flames

1947 Ford Convertible with wild candy red paint

1950 Mercury red and chopped

Slammed Model A with duece shell

Hybrid Ford coupe with different parts and pieces

1951 Mercury Chopped

Chopped 1940 Mercury Convertible in Gray