Jack Calori, 1936 Ford
Classification: Custom
Constructed by: Jack Calori
Circa: 1940
Current Owner:Roger Domini?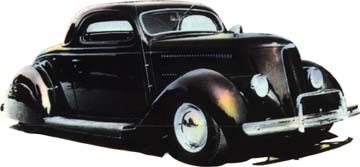 Jack Calori,'36 Ford coupe. This style of '36 Ford is often attributed to Harry Westergard of Sacramento, but Calori's was the first chopped '36 3-window to use the '39 LaSalle grille, '40 Chevy headlights molded to the fenders, solid clam shell hood, Buick teardrop skirts, kicked frame, inset rear license, and '41 Hudson taillights, as a classic combination. Calori, a Lynwood/Long Beach policeman, bought the '36 from its original owner in '47 to tow his equally beautiful '29 hiboy. By November of '49 it was on the cover of Hot Rod, with all bodywork performed by Herb Reneau, an expert, old-time metalman from Long Beach. In a recent conversation, Calori said it was Reneau's idea to use the LaSalle grille, and neither of them had ever seen a '36 done like this before. Calori sold the car in '50, it went to Minnesota, then to Washington,
Need an update on this car.