Stock car history

Flame Masking
Bonneville Speed week.
Muroc Lakes.
Hot Rod.
Customs.
Kustoms.
Rod Runs.
Car shows.
Car Painting.
Striping.
Flame Painting.
Scalloping.
Chopping.
Channeling.
Sectioning.
Frenching.
Leading.
Paint Blending.
Rat Fink.
Autorama.
America's most beautiful roadster.
Ridler Award.
Thanks for visiting the hot rod and custom car website, hot rods online. Don't forget to visit us on Facebook.

Surprising Barn find from the A.K. Miller EstateThis older couple was thought to be poor, and the church took up a collection to get them buried. The sherrif found some certicates taped to the back of the mirror and guess what they found in the barns and sheds.
American Pickers Went to Nashville and the Grand Old Opry to see the Oakridge Boys and Charlie Daniels. While we were there we went to the Antique Archealogy shop that is the home of the American Pickers. Lots of Automotive, Hot Rod, and collectibles, all enscomsed in a cool the old Automobile factory of the Marathoin Motor Car co. The factory takes up a city block in Nashville and is really the best place for an antique shop. Didn't get to see Danielle's tattoos.
Articles and Information from all over the country as they are presented. Be sure to scroll down, because the list is long.
Surprising Barn find from the A.K. Miller EstateThis older couple was thought to be poor, and the church took up a collection to get them buried. The sherrif found some certicates taped to the back of the mirror and guess what they found in the barns and sheds.
Collection of automobile hood ornaments Kirk Jones and the Goodguys provided some excellent photos of a wild collections of neat and bizarre hood ornaments. Back when most hood ornaments were caps for the radiator, they came up with some wild designs and themes.
Mike Fennels shop full of cool stuff
Schroeders Shop Manufacturers of period correct steering boxes and other traditionals mechanics.

Scanned photos from 1953 Hotrod annualsContributor Ron Brooks has taken the time to scan some great stuff from some of the old Hotrod annuals. Take a trip back in time to the fifties in southern Ca.
Wild rides from the internetSome really wild stuff that has crossed my screen from time to time. Check out the wild van for one.
Georgia Junkyard I have driven by this junkyard many times over the years when I was vacationing in the Georgia Mountains and now the nephew of the previous owner is clearin g the place out. I got a few parts and they are going fast like most junkyards.
The Henry Ford Our goal was to see the new automotive display and the hot rod section. It did not disappoint. This museum has always been a favorite of mine because I was born and raised in Dearborn , MI and because this website provided the very first link to this museum when it went online many years ago. They have done a wonderful job with the new automotive display and you need to add it to youjr bucket list for sure.
The Chrysler Museum The nonprofit Walter P. Chrysler Museum stands in honor of one man's journey to become an auto industry giant. Our spectacular collection, which spans more than a century, showcases the achievements of the company he founded and the importance of these vehicles in creating today's society.
The Automotive Hall of Fame A group of men met in New York City just a few miles from the 1939 World's Fair to create an organization that would offer a glimpse of the past. Its mission was to perpetuate the memories of the early automotive pioneers. The group was dedicated to honoring automotive people from all parts of the worldwide automotive industry. It has now moved to the grounds of the Henry Ford Museum in Dearborn, MI. This was a fitting move next to the Henru Ford.
The Auburn Cord Duesenberg Museum The Auburn Cord Duesenberg Automobile Museum, a National Historic Landmark, has welcomed nearly two million visitors from all over the world. It inhabits the former Art Deco showroom of the Auburn Automobile Company's national headquarters building, a place where automotive history was made over 75 years ago! The museum has the greatest and most extensive collection of Auburn, Cord, and Duesenberg automobiles in the world, and features the largest exhibit of Duesenberg automobiles on public display in the world! This is a destination that you and your family can not miss!
The National Auto and Truck museum NATMUS is a non-profit museum with emphasis on post World War II cars and trucks but with vehicles on display from 1908 "high wheelers" to current production pick ups. Also you will find inside the doors of NATMUS a Model Car / Truck & Toy Museum. It is located on the grounds of the Auburn Cord Duesenberg museum in Auburn, Indiana. Trucks, cars, hotrods, car models. cars from the fifties and earlier.
Kruse Automobile and Carriage Museum Dean Kruse has had quite a career in the automobile and classic car hooby. A piuoneer in the auto auction business and as a tribute to his career, he established the
The Kruse Automotive & Carriage Museum featuring many varities of the automotive era. Also, for a limited time, you can view one of the world's finest collections of custom hot rods, built by Carl Casper.
James Corbett's beautiful metal car sculpture. James Corbett, from Ningi, Queensland, Australia has been sculpting his incredibly life like pieces since early 1999, and since that time his unique works have found homes in all over the world. Using uniques car parts and auto related items, he does some incredible stuff.
Roaring Roadsters Thanks to Ron Brooks, Jack Asvitt and Mike Peters for their photo treasures and this is a few photos from a by_gone era. From the late roaring twenties, up through the fabulous Forties. These were back when men raced practically without any safety equipment whatsoever. Mostly old Ford roadsters from a time when you could buy a roadster body for five bucks.
Randy P's Roadster Deuce Roadster Randy Pinkler first saw his roadster in a magazine and traced it down years later, and miracuesly found the car and owner and brought it home. Heres the story.
Juan Fangio Museum Photos of Juan Manuel Fangio Museum of Balcarce, Argentina. The Museum tells the story of Fangio as a pilot since he started, 70% of the cars were driven by him.
Here are the pics of the Museum of probably the best race car driver who ever lived, who came from Argentina.
1975 NSRA Nats in Memphis Thanks to Zack Methyin for digging out these old snapshots from the 1975 Memphis National Street Rod Association Nationals from the very first years of the street rod movement.
Autorama 1963 00MACK from the HAMB forum added these great old snapshots from Joe Kizis Autorama in the northeast in 1963. Great stuff.
Show Rods from the sixties and seventies. Some of the wildest showcars that were ever built. Cars that were turned into models. Bubbletops, and some just plain outrageous show rods.
Hotrod Orthodontist Fellow hotrodder Dr. David Myers has built a very cool office. According to Gr. Dave The attention the office has drawn is really quite a surprise. My intention was really just to build a fun office for the kids to enjoy during their treatment rather than a regular old tan office with 4 year old magazines. LOL Guess I accomplished that goal and then some. Haha! We agree. UPDATE Pinstriper Ron Myers out ot Tulsa dropped by and striped everything in sight.
Sylva Roadster Lars Mapstead recently made a purchase that was equal to buying a piece of history. This roadster has it all and is in fantastic condition. Check it out.
Bumper Cars These are a group of vintage bumper cars that have been modified for street use.
Photos from the dry lakes-1946 Fantastic color photos taken at the 1948 SCTA dry lakes meet. Photos are a tribute to Warren Durkee by the members of his family. THis was state of the art, both in cameras and race cars.
Rodders Journal Photo Shoot After the Pebble Beach sunday, we took the Carrillo roadster up to San Francisco to the Rodders Journal headquarters for one of their photoshoots. The roadster is owned by Frank Morawski of Maryland.
Hot Rods at Pebble Beach The Pebble Beach COncours invited 9 old time hot rod race cars to the green this year. These cars raced on the dry lake beds of California and the salt flats of Bonneville.
Harrah's Collection They call it the National Automotive Museum, but it will always be the Bill Harrah Collection. It is home to the Phantom Corsair, Jimmy Dean's Mercury and the Ed Roth's Beatnik Bandit. Oh Yeah, there are two hundred other cool cars there too.
Little Car covers In the fifties and sixties there were a bunch of publications printed in the smaller size. They fit in your pocket and us old guys loved them. Doug Hayes has taken the time to scan a group of these colorful little boopks and here they are. Thanks, Doug.
Bonneville 2010 Great photos by Michael Harrington, a free lance photographer, and the article editorial for the this article is by Dana Nichols, Missoula Mt. Check out the article for further info about these guys.
Metal Class From RitchJ on HAMB internet forum is a class of metalworkers building a body for an Auburn Boattail Speedster. This is art in it's finest form. he body is built over a wooden buck.
The art of modelcraftmanship The models made by this retired dentist are absolutely amazing. It is all in the details.
Beer can art This came to me over the internet and if the builder sees it, I hope he contacts me so I can give him credit for his craftmanship.
Auction Article An article by Dave Welles from Santa Cruz and he originally wrote the article for the September issue of the TERMITE TIMES. This is the results of the Nick Alexander auction of beautiful Woodies from the greatest collection of woodies ever assembled.
Kirk's Art shots Kirk Jones has provided some great pictures of cars for us. He also takes some neat art type shots and we feature a few here.
Thanks to James H De Ath for this photo essay of the Schlumpf Collection Mylhouse, France. these really are some beautiful old race and road cars and it was fantastic to be able to get up close7 and check out the design and engineering. Itęd be good to see some of old Monsieur Bugattis ideas turn up on hot rods
From Don Garlits Drag Race Museum, Glenn Hayes, preasidant of the Florida Poor Boys Car Club, take us on a rare back shop tour of Garlits Shop. You won't believe the stuff in there. Album 1, Album 2
Kirk's Shop Tours Thanks to Kirk Jones for the coverage. As part of his duties as editor of Goddguy's Gazette, Kirk toured some really cool shops and collections. Here they are.
1932 Photos from the trash Thanks to Kirk Jones and the Goodguys org. for the old photos. Kirk literally found these pictures in the trash, ready to be thrown out! They were taken on a tour of a collection of 1932 Fords.
Old Travel Trailers Thanks to Ken Hart for the coverage. Some really great old trailers that were the beginning of the recreational vehicle craze.
Estate Sale From the one of the internet forums is this prize find of old racing and auto photos. Literally a lifetime of great photos found at an estate sale.
Meadowbrook Concours Thanks to Dave McKee for the coverage.
2008 annual ATHS Show Antique Truck Club of New England Chapter Annual Show. Thanks to Scott Ackley for the photos
Summer Place The Goodguys, while in Indy for the Nationals, go to a cool '50s town in a guy's backyard with a working diner and theater, among other things. You won't belive your eyes.
Skillman Collection The Goodguys, while in Indy for the Nationals, give us a private tour of theSkillman Collection of automobilia.
Streamline Hotrod and Parts Store The Goodguys, on the way to the Colorado Nationals, visited The Streamline Hotrod shop and give us a guided tour of the facilities.
Mike Roberts New Zealand Rod Shop Thanks to Kevin Perry, also known as Kiwikev on the HAMB Forum, for the great coverage from New Zealand featuring Mike Roberts shop and some of the fantastic metal work that Mike does.
Nethercutt Museum On the way to the Goodguys DelMar Street rod meet, Kirk and the gang visit the Nethercutt Mueseum
Hollywood Hotrods Also on the run to the DelMar meet, kirk stopped at the Hollywood Hotrod Shop for a shop tour
General Motors Heritage Center The HAMB hotrod forum takes a tour through the GM Heritage center on a special group tour.
Ed Roth and Von Dutch Collection Bob Klessig takes us along as he visits a preivate collection of Ed Roth and Von Dutch memoribilia.
Drylakes and Bakersfield All the pictures in this thread are courtesy of the following people. J. Earl Harris pictures, submitted by his son Joel. Jimmy from Australia submits the Bob Giovanine collection. Courtesy of Bob's son Curt. Jimmy also submits the Ray Morrisette collection, that he bought on Ebay.
NHRA Museum Eric Arcorcha takes us on a tour of the George Barris exhibit at the NHRA museum.
The Los Angeles Archives Thanks to Dave Hagan for these great photos
The Vintage Sprint Cars Thanks to Joshua Shaw for these great photos
Tackley's Auto Body Great stuff from my old friend Mike Tackley in FLorida
Don Garlits Racers reunion from a few years back
Henry Ford Museum Great place for car nuts
BillyBurnham Tribute to an old friend
Biff & Buffy An amusing article submitted by Bill Burnham for publication in the Old Farts Newsletter
Automotive Engineering Ed Monroe recently passed away and this is an old article about Ed and I when we were younger.
RaceRockCafe At the beginning in Florida.
Rachel Our proper Parliamentarian circles the track.
Article from MSRA Newsletter I wrote a monthly article in the Minnesota Street Rod Association newsletter and these are the ones that i saved. This shows how far back we were on the Internet, because we didn't have a URL, just a server number that we published.
Wheels thru Time Motorcycle Museum in Maggie Valley, N.C.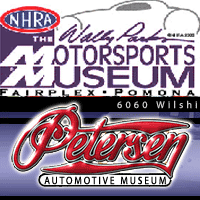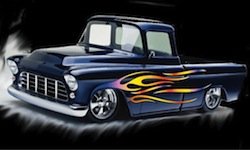 Flame masking kits to add flames to your ride